Sale!
Hotdive ST2 + OCTO + SPG Scuba Regulator Set – Silver
A diving regulator is a pressure regulator that controls the pressure of breathing gas for diving. The most commonly recognized application is to reduce pressurized breathing gas to ambient pressure and deliver it to the diver, but there are also other types of gas pressure regulators used for diving applications.
A scuba regulator is one of the most important pieces of equipment used in scuba diving. Scuba regulators allow the diver to breathe the air from their tank at a lower pressure level. Need more info? Check out our Regulator Buying Guide.
Need to get your Regulator Serviced?
Looking for a Regulator Hose?
Description
ST2 + OCTO + SPG SET
S2 First Stage + T2 2nd Stage + T2 octopus +SPG
Standard Hose:
– 0.75m LP braided hose
– 0.95m LP braided hose
– 0.80m HP Rubber hose
HotDive ST2 Technical Information:
– Balanced piston-type first stage regulator
– Connector: DIN
– LP ports swivel
– Intermediate pressure: (8.5-9.5 Bar).
– High pressure port: (7/16″ 20W UNF-2B) x 2.
– Low pressure port: (3/8″ 24W UNF-2B) x 5.
– Weight(oz/g): 21/595.
– Main materials: 316 stainless steel body, SUS springs.
– Balanced adjustable second stage regulator
– Intermediate pressure: 10 Bar/150 PSI.
– Inhalation effort: 1.2-1.5 CIW (Column inches of Water)
– The pneumatically balanced design gives consistent gas pressure for easy inhalation
– Easy-grip dive/pre-dive switch avoids free at the surface and is easy to use with gloves.
– Adjustable design helps the diver fine-tune cracking pressure so breathing resistance matches the diver's personal preference.
– Second stage adjustment knob: Fine-tunes inhalation effort.
– Weight: 237g (0.52lb)
– Faceplate Color: Black, White, Yellow
– Main materials: GF Enhanced PA, SUS 316 main body.
– Food grade silicone mouthpiece
Low pressure hoses length: 75cm(30")
Low pressure hoses material: Rubber / Braided +stainless steel fittings
First stage connector: 3/8"-24w
Second stage connector: 9/16"-18w
Working pressure: 30 bar / 430 psi
Color: Black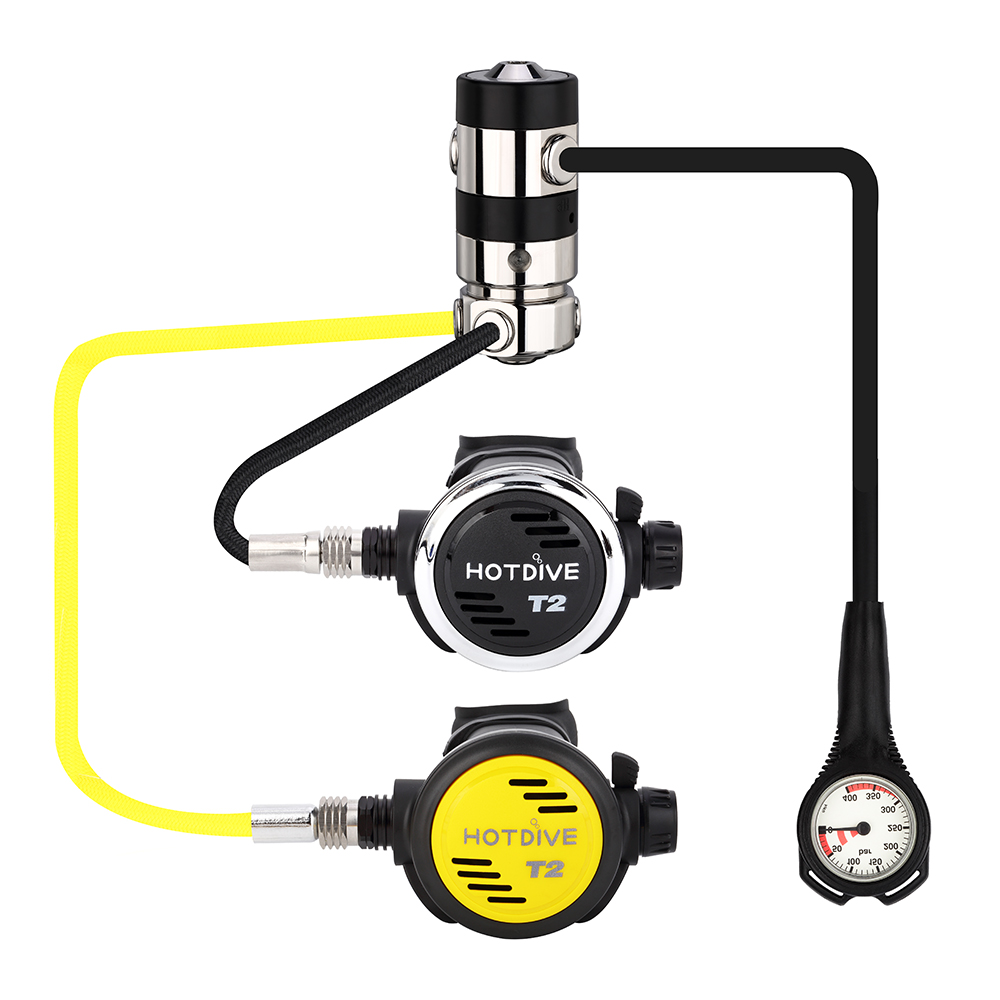 Additional information
| | |
| --- | --- |
| Weight | 2.8 kg |
| Dimensions | 30 × 30 × 12 cm |
| Type | Yoke, Din |