Sale!
Lens Set for HotDive Underwater Housing | Wide-Angle Lens, Red Filter, Bracket, Screws
-one 72MM 0.39x wide Angle lens
-one 72MM red filter -one 37MM red filter
-one 37MM bracket -two fixing screws
-one packing box
Easily screws onto the front of your lens, and instantly expands the field of view for breathtaking wide-angle photography. Perfect for shooting seascape, divers, and shipwrecks without moving further away from the subject,
Description
Scuba Phone Case Hotdive H2 accessory wide angle lens kit Make your favorite smart housing even better
HotDive is made to adapt to your needs. That's why we made it work with lenses you can pick up at your local camera store or online. If you want a macro lens or a wide lens, you can pick it up and attach it to the HotDive discovering more possibilities for photography.
Why you need Scuba Phone Case HotDive accessory wide angle lens kit?
All cameras with lenses that sit behind flat ports suffer a 25% loss of angle of coverage due to the refraction effect underwater.The scuba phone case HotDive accessory wide angle lens cancels out refraction and restores the camera's topside field of view underwater while also enhancing the image clarity, sharpness, and contrast.
Why you should attach red filter with your HotDive smartphone housing?
Red filters compensate for the lack of red light in underwater scenes (since red is the first color to be lost when descending in water). This shift in available light will often confuse the hotdive scuba phone case camera's white balance metering, so the red filter helps deliver accurate, vibrant color in your photo and video, as well as much-needed contrast. A red filter is designed to be used in tropical and blue water, optimized for use between 10 and 80 feet.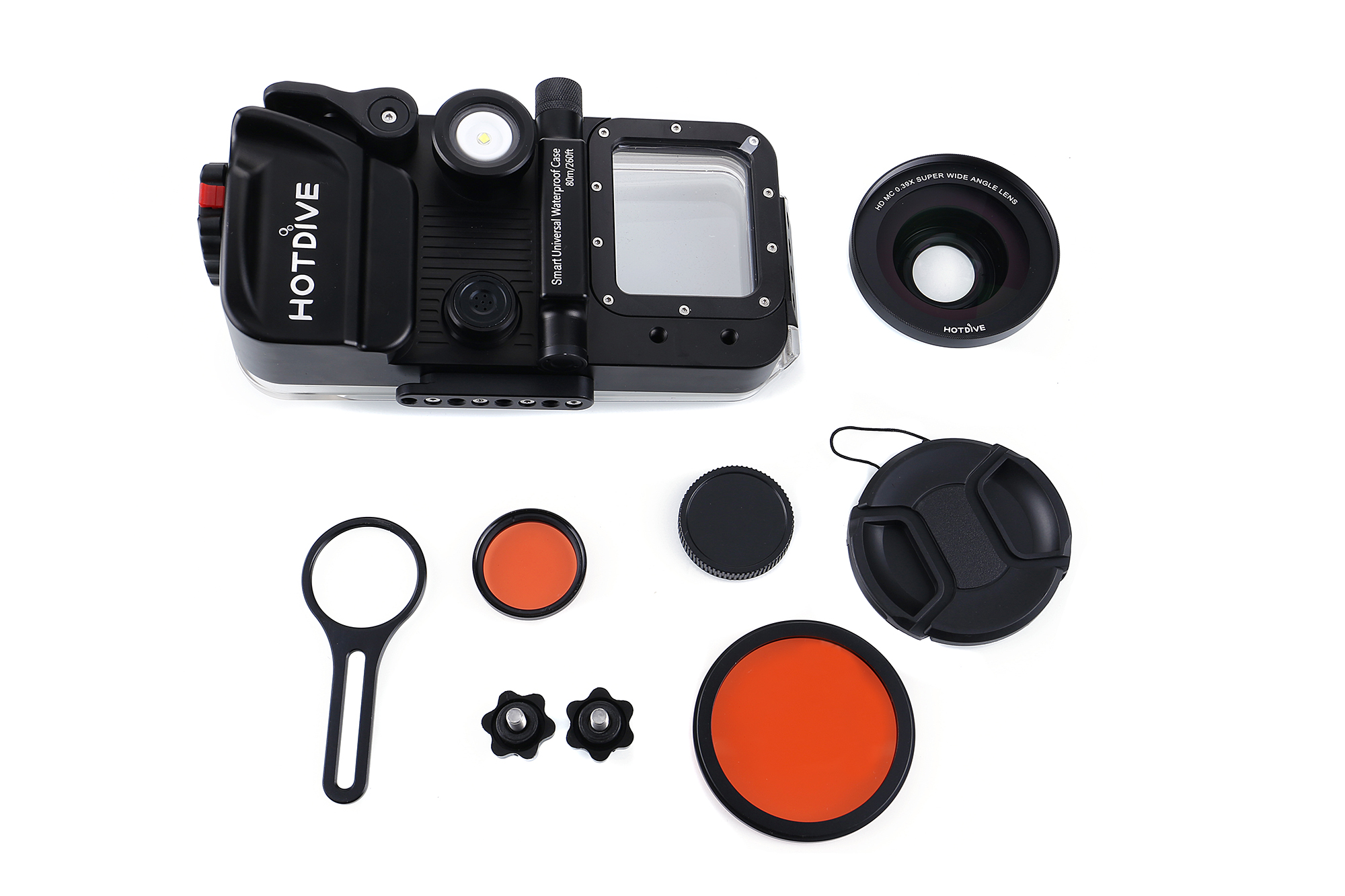 Smart housing Hotdive accessory package includes:
72MM wide-angle lens x1
Lens cover x 1
72MM filter x 1
37MM filter x1
Bracket Set x 1
Case x 1
Check out how to setup up the kit in our Instagram Hotdive Official or videos.